It seems like I've been behind on everything lately and my blog is no different. Here are some awards that were so graciously given to me!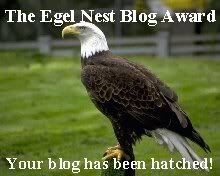 Th first, the Egels Nest Award, came from
Stacey
almost a month ago. (Sorry!) I'm going to pass this on to:
Gina
and
Our Seven Qtpies
.

The second award came from
Mama Pajama
awhile back too. This award "celebrates people who reach out and make the blogger community a better one."
You are so kind to think so! So the people that I've tagged, I think they also make the blogger community a better place: Lorie, Beth, and Mimo.