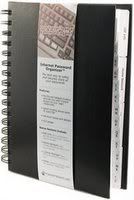 Thanks to the bloggy giveaway hosted by
Rocks in My Dryer
, I won the above prize! It's called an Internet Password Organizer. One place for me to keep all my websites, passwords, and notes. I won the prize from Tanna over at
Complete Organizing Solutions
and I love it!
But you're probably wondering what this organizer has to do with shoes. Well, as part of her giveaway, we had to ask a question about a problem we were having when it came to organizing something. My problem is shoes. No, I don't have a lot (one for church, one for everyday, and sandals - yes, really, that's all I have lol) but you combine my pairs with my husband's pairs and the girl's pairs, you get a big mess.
So Tanna suggested that I first go through all the shoes and see which ones still fit and still use. I've already done this (to maintain partial sanity with the situation) but it still left me with a pile of shoes. Living in an apartment means we don't have a lot of space. So the shoes have been in a lump in the small living room closet next to the broom/dust pan, the vacuum, the mop/bucket, the laundry soap, the ironing board, some wood, and a baby swing.
So when Tanna suggested this
10 pocket shoe organizer
, among other things, from Target, hubby and I loved it. This is so perfect for our little space! I'm thrilled to finally rid my shoe dilemma after all this time. Thank you so much Tanna!