Kara
and
Mama Pajama
who both so graciously think I'm a blogging star. Thanks ladies, you totally made my day! Here are a few people I think deserve this Blogging Star Award also:
Lei
Richard
Stacey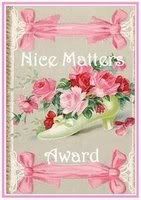 Kara
also gave me this Nice Matters Award. She is so sweet! I wish everyone knew her in person because she is amazing! This award is for those bloggers who are nice people, good blog friends and those who inspire good feelings and inspiration. Also for those who are a positive influence on our blogging world. So here are some nice people I know:
Mimo
- is one of the most genuinely sincere individuals I have ever come to know. She also has an incredible amount of talent when it comes to photography.
Beth
- she understands my quirky sense of humor and always has something nice to say on my blog.
Kate
- I admire that her heart is always in the right spot and that how she is willing to do anything for someone else.